WP Fan Machine 2.0 Review,
This is the best for Real Likes and posting comments on auto pilot.
If your looking for a product that can auto post, comments, replies, likes and engagement, well look no further, here it is, and everything is real, no fake likes. Don't let the auto posting comments and replies fool you, there are real, let me explain how this works.
Ok what would happen if you were posting comments, replies, likes on hundreds on Facebook like pages, well let me tell you, your engagement rate would go way and your like count, yes we all post a few comments on pages when we have the time or like a page, well WP Fan Machine 2.0 well do this on auto pilot, every day 24 hrs a day.
Now let me show how this looks on the admin panel, as you can see, this is a super smart design, and one of the best I have ever seen in a long time, they really have thought of everything, so you don't have to. when you set up comments and replies, you will see that you have full control of what is been posted, and you can even add keywords.
---

---
With Wp Fan Machine 2.0, you can set up more then one Facebook Business page
Or Like page to market, so let say you have twenty Fan pages, then you turn on all twenty Fan pages to market, so you will be posting on all twenty at the same time on auto pilot, and just watch all the likes and engagement come in, so how cool is that. You never have to go to Facebook Fan pages and post comments to get engagement, this is now done for you 24/7.
So I will say this on my conclusion on this product,
This is one of the best products for doing what it says it does, and I use it everyday and it gets me more business.
I know people may think, how can this help me, well it's talking to thousands of people on it's own, super cool, once you understand how it works, then you will understand the power of this type of auto posting on social media.
If you have questions on this type of product, and wanted to ask me something, send your questions.  
For any questions on this product, Just ask Rob. 

---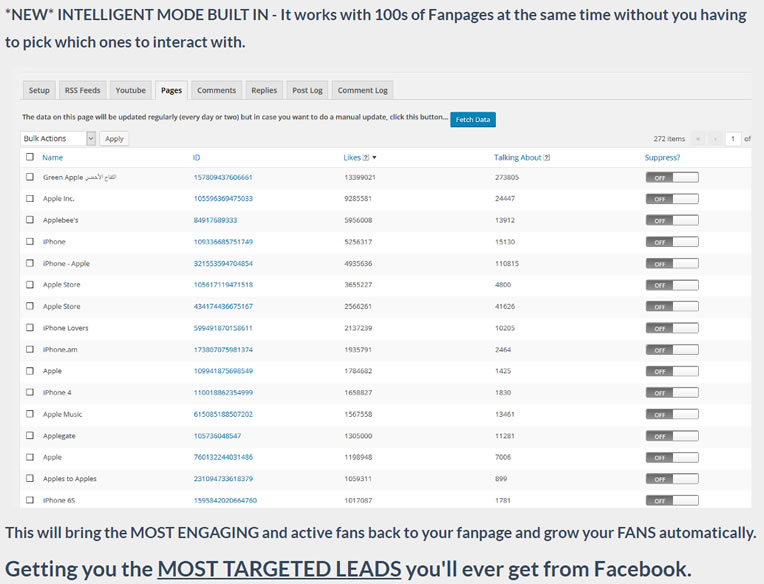 ---